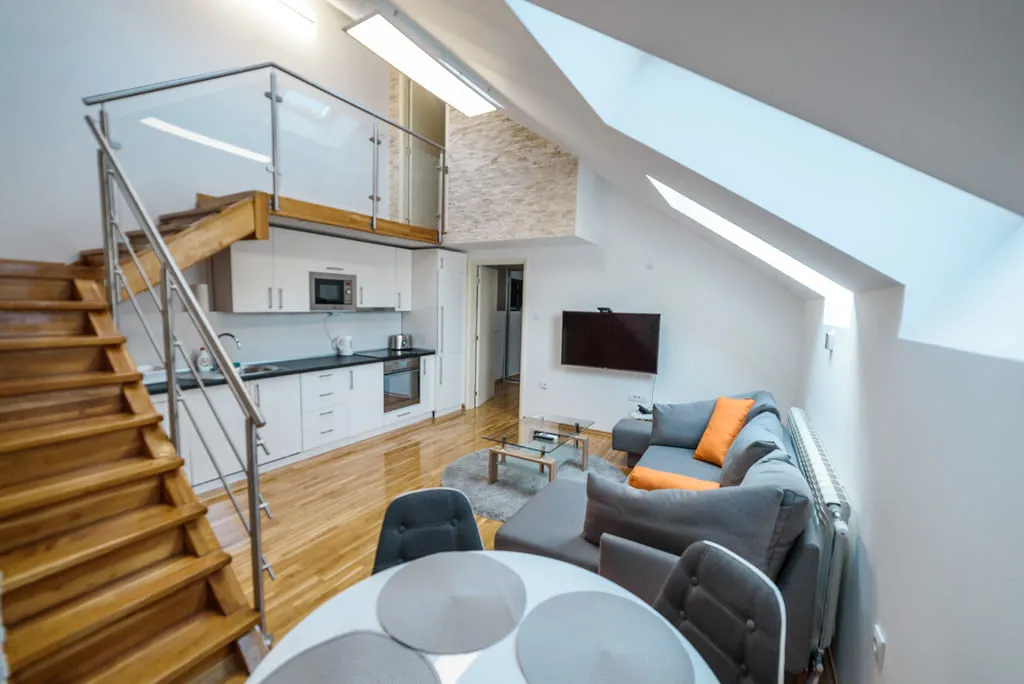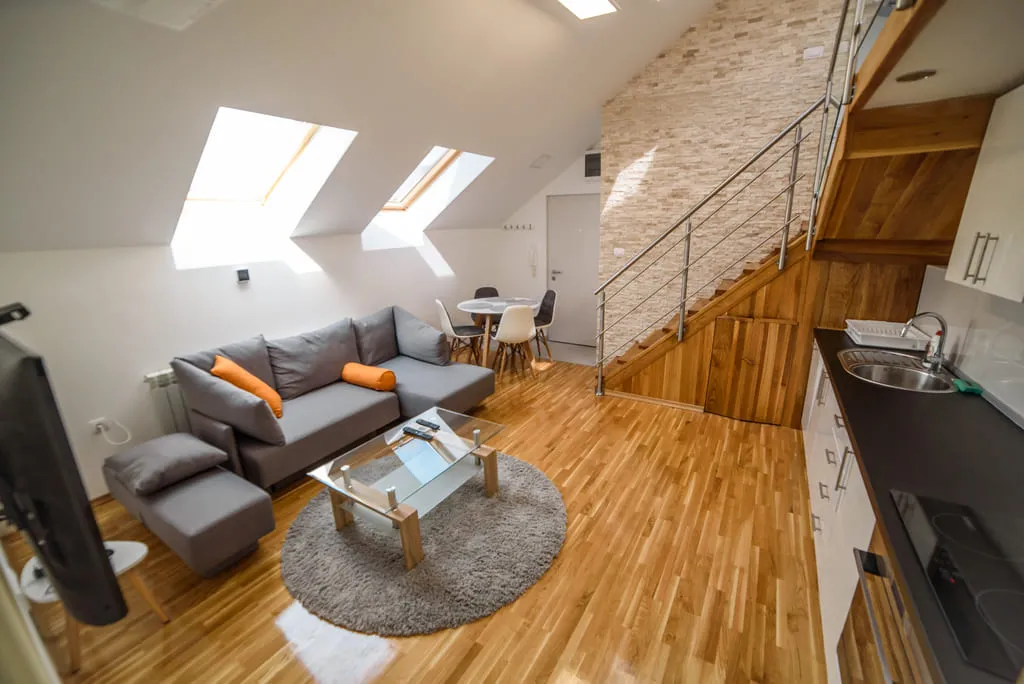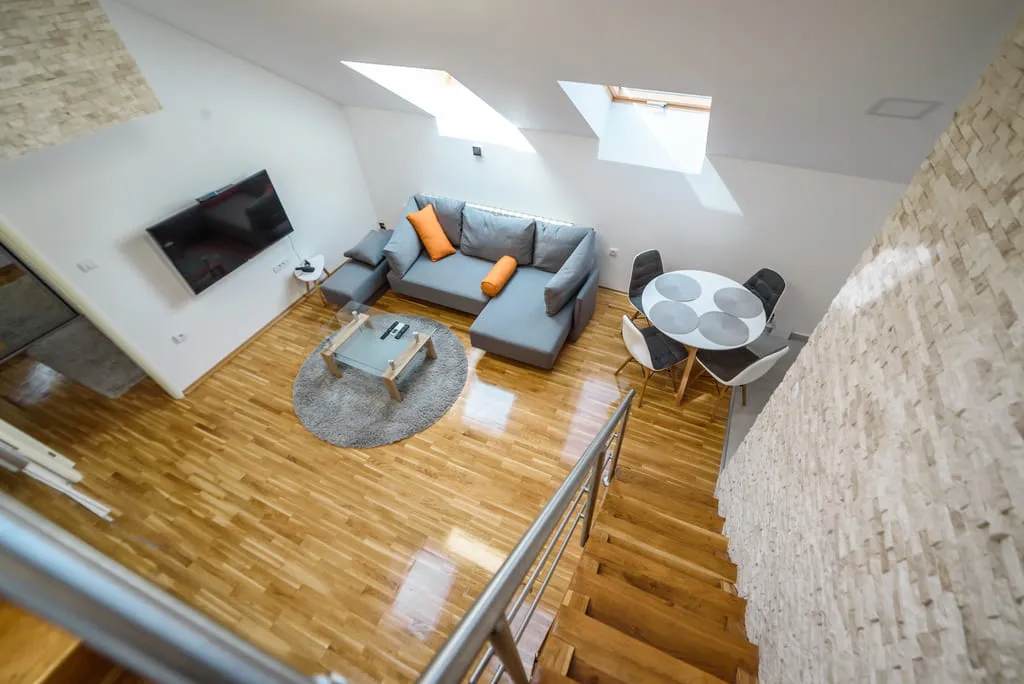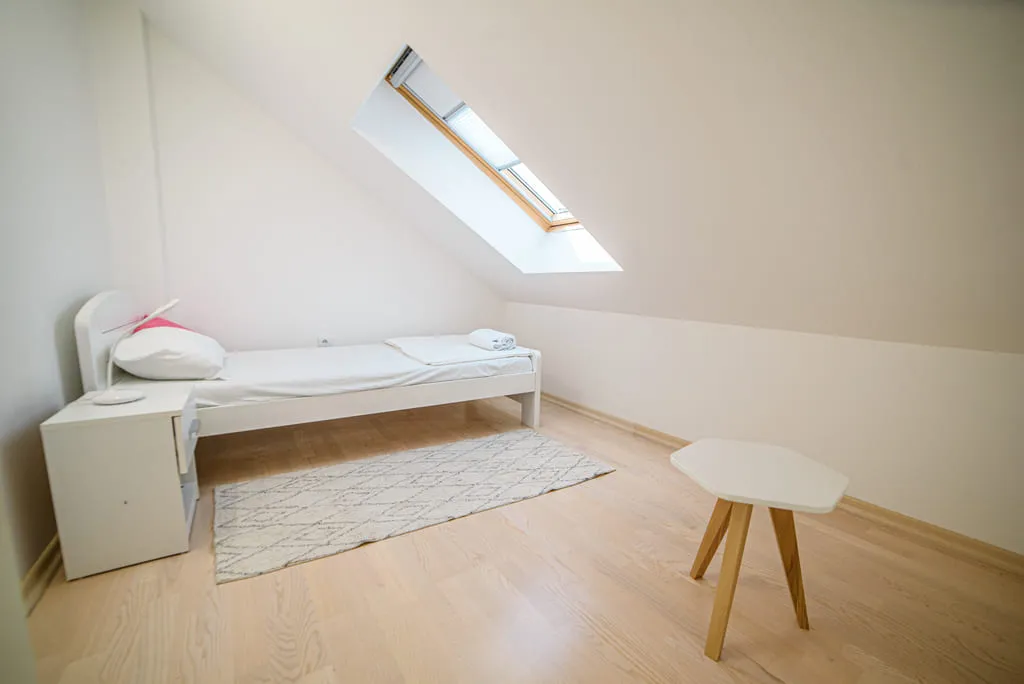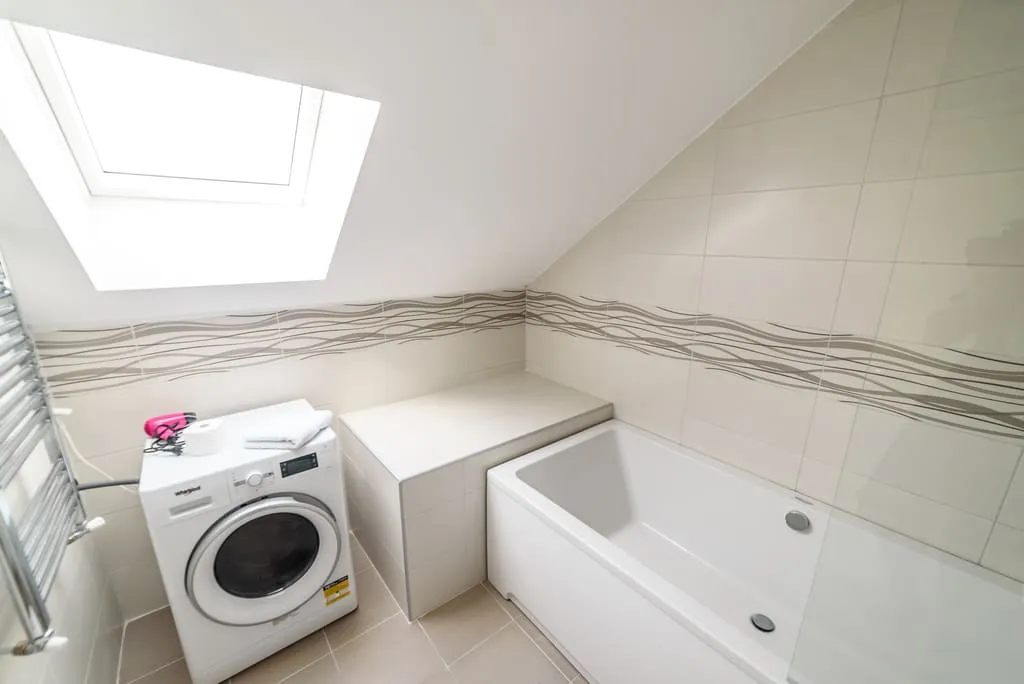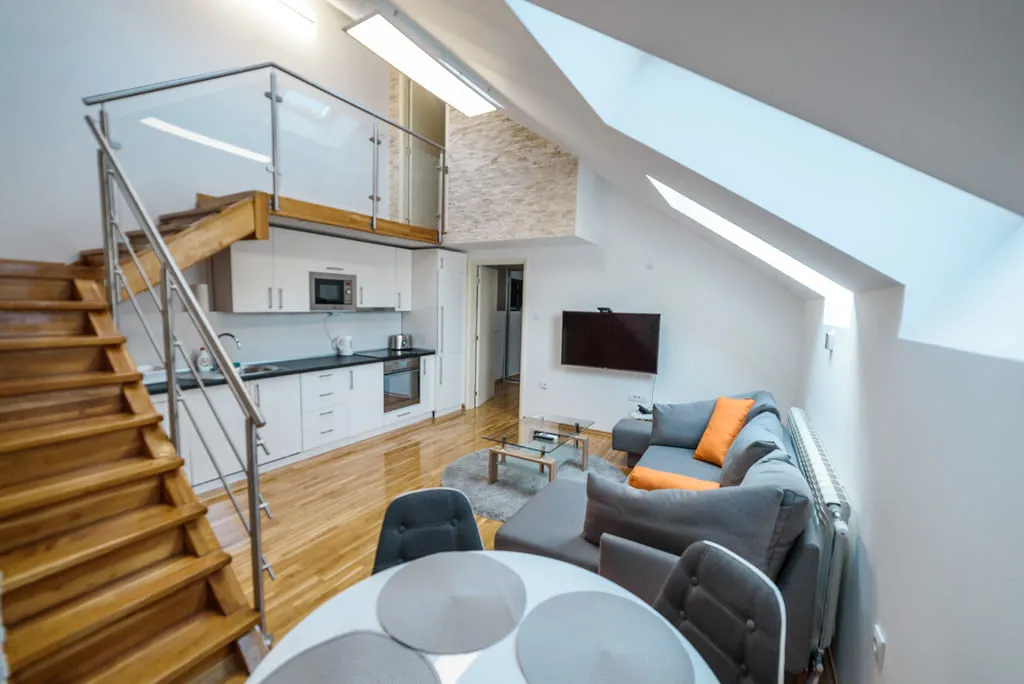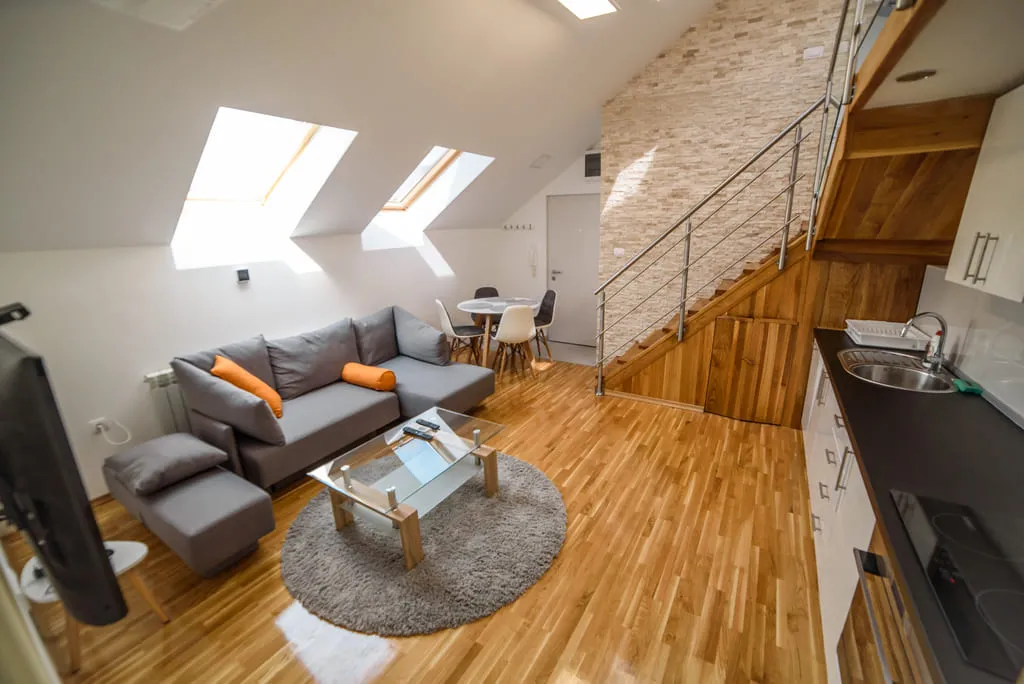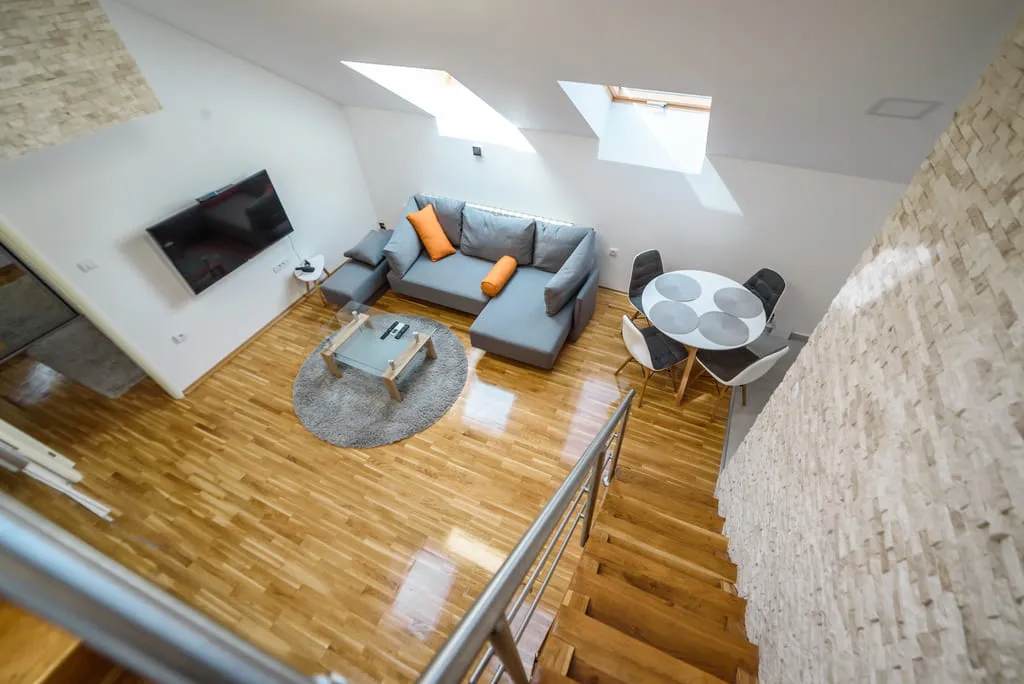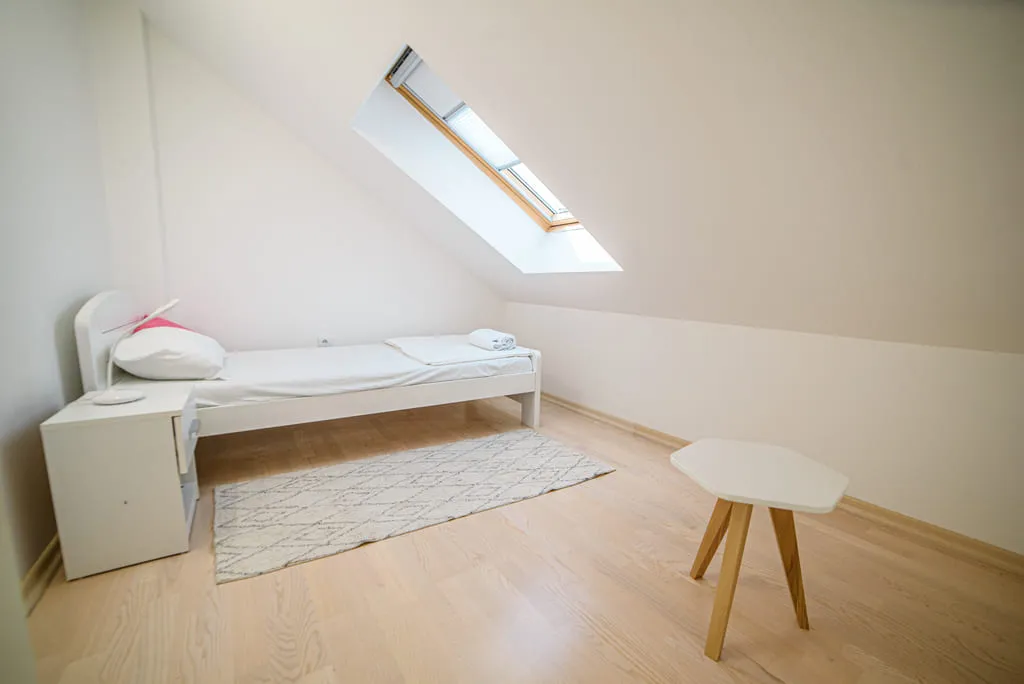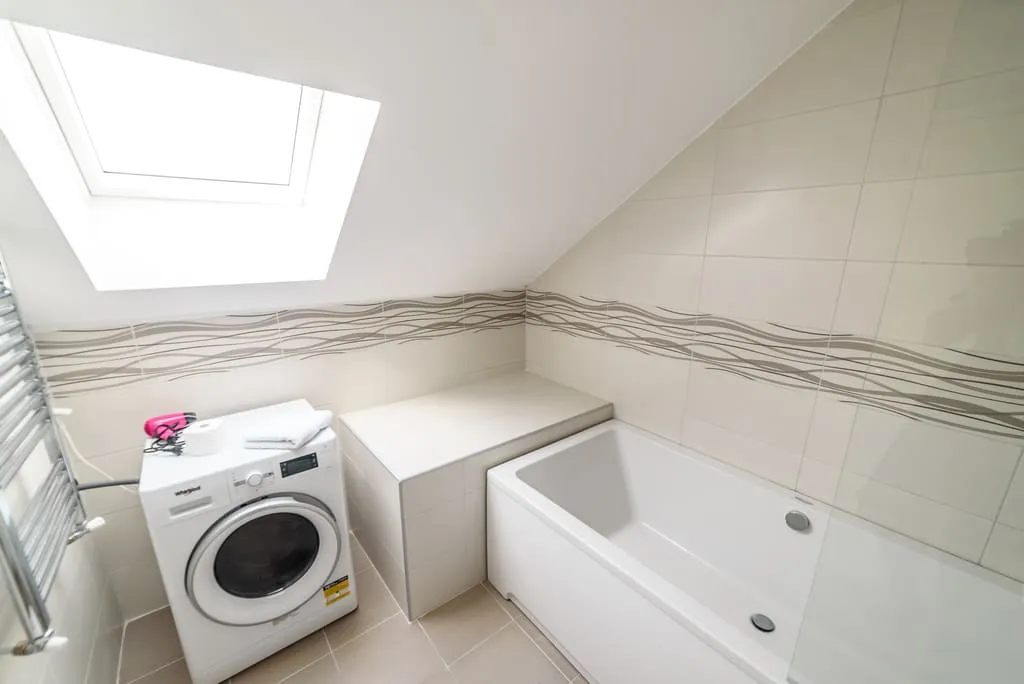 Novi Sad is located in the center of Vojvodina and, in the very center of Novi Sad, there are DANUBE apartments. The apartments are named after Dunavska Street, where they are located at number 27. For the people who come from other places, no matter how well they know Novi Sad, this provides an ideal opportunity to find themselves in a beautiful and pleasant environment in the heart of the city, and from there "everything is close", as the residents of Novi Sad would say...
DANUBE PARK 3 is a duplex apartment, 55m2 in size. It is located in the attic, but that does not diminish its beauty. This apartment consists of several separate rooms and most of the lower level consists of a large living room, which can also serve as a dining room, and within it there is a well-equipped kitchen. This room is in gray and white tones, which makes it pleasing to the eye in the daylight coming from the roof windows. In the center of the room is a comfortable sofa, which can be used for pleasant conversations or an afternoon nap. There is also a glass dining table with four chairs and one of the walls is adorned with a large LCD TV. On the lower level there is a bedroom dominated by white colour. The double bed occupies the central part of that room and next to it there is a wardrobe, as well as two bedside tables.


Beautiful and solid wooden stairs, secured with metal and glass railings, lead you to the upper part of DANUBE PARK 3 apartment. This level of the apartment is divided into two parts - a room with one bed and a bedside table, and a spacious bathroom. Natural light reaches through the roof windows, which allows you to observe the Novi Sad night sky while enjoying a warm bath in the bathtub. DANUBE PARK 3 has a Wi-Fi connection as well as a special parking space for your car.
However, considering that the apartment is located in the very center of the city, in the pedestrian zone, we hope that you will use it to visit the most beautiful parts of the capital of Vojvodina, on foot. Dunavska and Zmaj Jova`s street, Dunavski park, Kej (Quaj), Petrovaradin fortress are only a few minutes of walk from the apartment and our city is (especially in summer) filled with numerous events for all generations.
So, take the opportunity to visit Novi Sad and spend some time in DANUBE apartments. Enjoy the "EXIT", Novi Sad Fair, "Street Musicians Fair" or "Zmaj Children Games". Organize a business meeting, celebration, attend an education or use the opportunity to perform health examinations while in Novi Sad. Or, simply, enjoy the comfort, peace and quiet of your own apartment in the heart of the city.
The DANUBE apartments are waiting for you ...
For more information, please contact us via Viber, WhatsApp, e-mail or phone:
Best regards, 
Astoria apartments